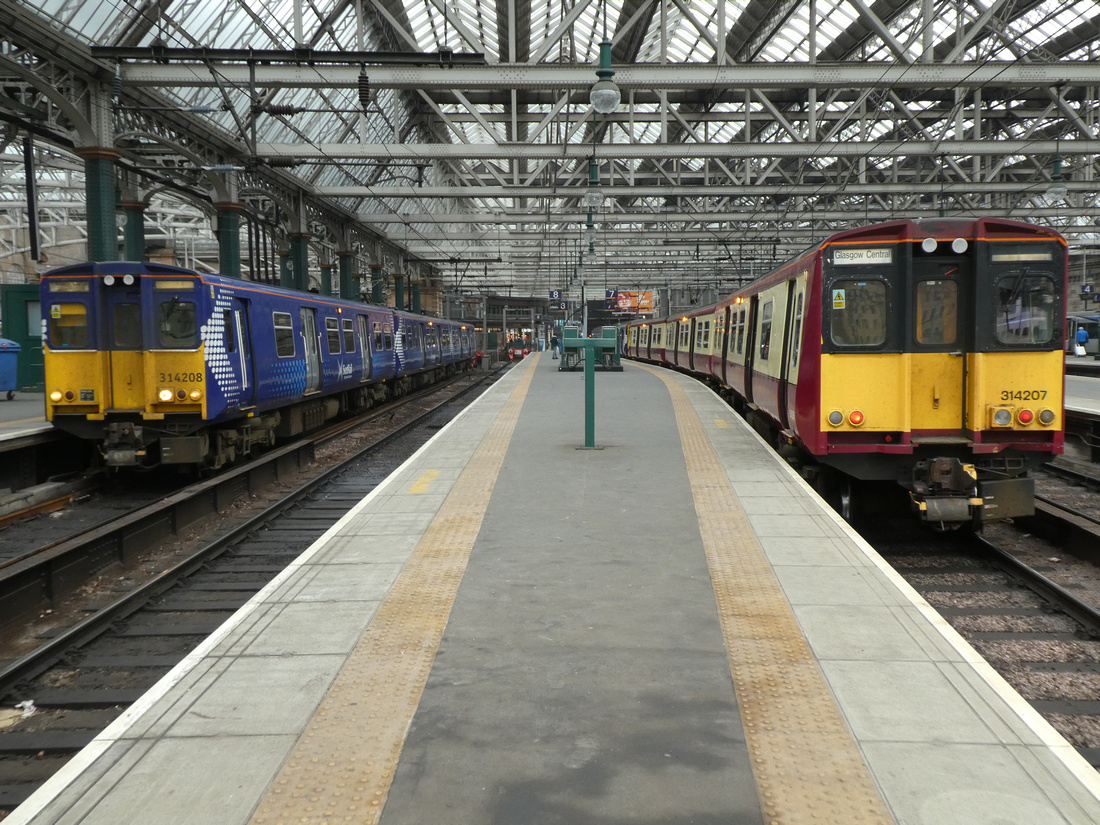 314208 and 314207 at Glasgow CentralScotrail Saltire liveried 314208 awaits departure from Glasgow Central with 2D27 12.42 service to Paisley Canal while SPT Carmine and Cream liveried 314207 will depart with 2M74 12.45 to Newton via Maxwell Park 1.3.19
Introduction
In 1979, the class 314's were built by BREL in York. The 16-strong fleet were delivered for the then newly reopened Argyle Line, running from Lanark / Motherwell / Hamilton Circle – Dalmuir / Milngavie via Glasgow Central Low Level.
The class 314's were built to British Rail's then standard 1972 design for suburban Electric Multiple Units, which saw 5 classes of unit with very similar looks built. The 5 classes are: Class 313 (dual voltage), 314 (ac current only), 315 (4 car version of the class 314), 507 (3rd rail only) and 508 (3rd rail only and was a 4 car variant of the class 507, now 3 car).
Each 314 has a seating capacity of 212 people and consists of 3 vehicles: the outer driving vehicles, which contain the drivers cabs and are motorised (DMSO), with the unpowered pantograph trailer (PTSO) in the centre of the set.
There are corridor connections between each vehicle in the set and they also have emergency exit doors on the front of each cab. The emergency exits in the cabs had to be installed to allow the sets to work in the tunnel between Anderston and Dalmarnock on the Argyle line. The original livery carried was the BR Blue and Grey livery, which the units retained until 1983.
Entry to Service
One of the earliest (possibly even the first) appearance of a class 314 in Glasgow Central was on 5th August 1979, when 314201 was displayed alongside the APT and Caledonian Railway 439 class no. 419 as part of an open day to celebrate Glasgow Central's centenary.
314204+314208 were the first 314's to enter service on the North Clyde Line, doing so on 26th October 1979. 314202 became the first 314 to enter service on the Argyle line, debuting on 4th November 1979. The class shared the Argyle line services with the class 303 and 311's and also occasionally worked on the North Clyde services. 7 months after entering service, on 5th June 1980, 314203 ran into the rear of 314215 at Hyndland Junction, causing significant damage to vehicle 64588 on 203 and one of the DMSO vehicles on 314215. Vehicle 64587 from 203 was formed temporarily into a hybrid set with the undamaged vehicles from 215 until both damaged vehicles were repaired.
1983 saw the introduction of the Strathclyde Transport orange and black livery, with 314216 the first 314 to be repainted in August 1983. The livery was gradually applied to all 16 units of the class with 314213 being the last to be repainted in August 1984.
314203
314203 at NewtonSaltire liveried 314203 waits to depart Newton with 2P15 9.49 Newton - Glasgow Central service 13.10.18
On 21st July 1991, 314203 was involved in the fatal crash at Newton with 303037, whilst working a Balloch – Motherwell service. Driving vehicle 64588 was destroyed in the collision. Initially the undamaged vehicles from the set: DMSO 64587 and Pantograph trailer 71452 were stored as spare vehicles, however 314203 was later reformed using vehicle 64426, a former DMSO vehicle from 3rd rail class 507 set 507022 which had been withdrawn following a collision in Liverpool. 64426 required conversion work to be done to it's electrics to allow its conversion from a 3rd rail to AC powered vehicle. 64426 was renumbered to 64588, giving it the original number from the original vehicle.
The new 64588 had a complete interior refurbishment prior to entering service and was used as a test bed for a number of different features, these included carpets, bins, curved vestibule glass, various different styles of seating and light diffusers. It had been proposed at the time for the 314 fleet to receive an interior refurbishment using some of the features demonstrated in 64588, however the refurbishments never happened and the 314 fleet was to retain the same style of interior for the remainder of its working life.
64588 still looked different to the rest of the class for the remainder of it's working life,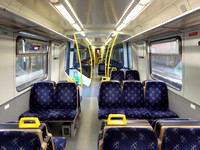 314203 driving vehiclean interior view of the unique driving motor 64588 from set 314203. 64588 was used as a test bed for a number of different types of seating, flooring, lighting diffusers and grab handles. It now carries the standard class 314 low backed seating. 13.10.18
however by 2002, the vehicle had been fitted out with the standard refurbished class 303 / 314 low back seating, which probably came from a scrapped class 303. The carpets were replaced by the same linoleum as the rest of the fleet, however it did retain the bins, curved vestibule glass and the lighting diffusers.
Flood Damage
December 1994 saw two class 314's 'drown' whilst working on a peak time service through the tunnels on the Argyle Line. 314208 and 314212 were waiting at Central Station Low Level with an Eastbound when a torrent of water came rushing down the tunnel from the River Kelvin, which had burst its banks. The Kelvin, which flows past a disused tunnel on the former line to Maryhill Central and joins the Argyle Line near to Exhibition Centre station. The flood water engulfed the tunnel from Anderston to Central Station Low Level almost completely submerging both sets. It was at least 9 months before trains could use the Rutherglen – Exhibition Centre section again and a while before 314208 and 314212 were seen back out in service.
314205 at Glasgow CentralLiving on borrowed time, 40 year old class 314, 314205, waits under the stunning glazed roof of Glasgow Central before departing with 2D37 15.12 service to Paisley Canal 24.8.19
SPT Era
314203 re entered service on 16th May 1996 and would become the only class 314 to be named. 314203 carried the name 'European Union' from 1996 until 2002. In 1997, Strathclyde Transport became Strathclyde Passenger Transport and out went the Strathclyde 'Red' livery. The Strathclyde Red livery featured mainly orange body sides with black window surrounds with a white outline. This was replaced with Carmine and Cream, which featured a mainly carmine body, with cream surrounding the windows and a black and gold outline.
314215 became the first 314 to receive the new livery, being repainted in August 1997 and returning to service in September 1997. However the relivery of the 314's was a very slow process. It took almost 9 years (and 2 different franchise owners) for the full fleet of 16 units to receive the Carmine and Cream livery.
New lines for the class 314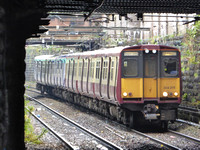 314215+314214 at Queens Park314215 + 314214 approach Queens Park with 2N28 10.28 Neilston - Glasgow Central 20.10.18
National Express won the first Scotrail franchise of the privatised era and promised a fleet of new trains to replace the aging class 303's, which had been in operation in and around Glasgow since 1960. The class 334's were expected to be ready and in service during 1999, however it was 2001 before they finally began to see use. The 40 sets were expected to work all the services to Ayrshire and Inverclyde as well as sharing duties with class 318's which were displaced from Ayrshire and Inverclyde lines and transferred to the Argyle line and with the 320's on the North Clyde lines.
In preparation for the introduction of the class 334's, a major cascade of rolling stock took place in October 1999 with the 314's transferring from the Argyle line, where they had spent almost their entire working lives to that point, to the Cathcart Circle / Newton and Neilston lines. The elderly class 303's, still continued to operate some peak time services on the Circle and to Gourock and Weymss Bay but had mostly transferred to the Argyle line to replace the 314's there.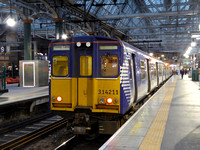 314211 at Glasgow Central314211 waits to depart Glasgow Central with 2P18 16.20 service to Newton via Queens Park 16.11.18
During 2000, 314211 developed a major fault with it's transformer and subsequently spent around 18 months out of service from late 2000 until April 2002 awaiting a replacement transformer.
The eventual introduction of the class 334's in April 2001 meant more new territory for the class 314's. As more class 334's came into service, the number of class 303's in service decreased. By October 2001, the class 303's were confined to the Low Level services on the Argyle and North Clyde lines, meaning that the 314's took over some of the class 303's former peak time workings to Gourock and Weymss Bay as well as their regular workings on the Cathcart Circle.
Modified livery
On Thursday 23rd August 2001, 314205 derailed on the points just outside platforms 7 and 8 at Central Station. The unit was to remain out of use until
314204 at Central 18.5.09
November 2001 while vehicle 64591 from the set was taken to Derby RTC for repairs.
In 2006, the final class 314 to retain the Strathclyde Transport 'Red' and Black livery was finally repainted. 314202 had been in dire need of a repaint for some time, as the by now obsolete Strathclyde Transport livery had faded so badly that it was looking more pink and grey than orange and black. 314201 had been in a similar condition, however it was repainted the previous year.
By the time 314202 was finally repainted, some other members of the fleet had been repainted twice and were now sporting a modified version of the Carmine and Cream livery. The modified livery was more disability friendly and featured fully cream doors, rather than the half Carmine / cream doors matching the body on the first version.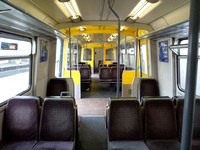 314202 interior
314's reach Ayr
Following a prolonged period of cold weather during November / December 2009 / January 2010 and November / December 2010, the Class 314's found themselves making rare forays onto the Ayr, Largs and Ardrossan services as well as increased use on the Inverclyde services. This was due to a number of Class 334's having weather related issues caused by ice and snow build up!
Interior Refresh
Until 2011, the classic 1979 interior of the class 314 hadn't changed much. The only real change was the different styles of moquette on the seats over the years, however this was to change from 2011 onwards when the 314's were treated to a much needed interior refresh.
314211 interiorthe interior of DMSO vehicle 64604 from 314211 11.1.19
The refresh included an interior repaint, new vynal flooring and new Scotrail Saltire seat covers, making the interior a bit more modern looking. A number of reliability modifications were also carried out to the fleet at this time including bogie and coupling overhauls and corrosion repairs.
As well as the work listed above, five of the fleet, which retained the original unmodified SPT Carmine and Cream livery (minus the all cream doors) received an external repaint, with the now obsolete SPT Carmine and Cream livery making way for the Scotrail Saltire livery, giving the units a more modern look. Starting with 314212 (also first to receive the interior refresh), 314203, 204, 208 and 211 would follow over the next 2 years. The remaining sets kept their Carmine and Cream livery.
More new territory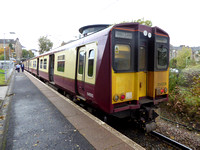 314206 at Paisley Canal314206 waits to depart Paisley Canal with 2D22 11.35 service to Glasgow Central 20.10.18
In December 2012, following the electrification of the short Paisley Canal branch, electric traction was required to operate the service and the 314 fleet were chosen to provide most of the workings on this route in addition to their usual routes. 314207 worked on the first full day of EMU service on the Paisley Canal line along with 380006.
As well as reaching Paisley Canal, the class 314's made a couple of rare forays back to a couple of their old haunts on the Argyle Line.
314206 worked several services from Glasgow Central - Lanark on 11th April 2015 after a unit failure led to 206 being stepped up. 314207+314201 reached Motherwell, working 18.57 Glasgow Central High Level - Motherwell via Cambuslang and Blantyre on 31st May 2016. The most recent and the last ever class 314 working to Lanark happened on Sunday 14th April 2019, when 314209 found its way onto the hourly Sunday service from Glasgow Central - Lanark during the evening.
The end approaches
314210 at NewtonAs the darkness descends, SPT liveried 314210 awaits departure from Newton with 2P22 20.49 Newton - Glasgow Central via Queens Park 7.9.19
In 2016, a further two class 314's: 314209 and 314214, were due for a relivery / repaint, and both had their modified SPT Carmine and Cream livery replaced with the Saltire livery.
However, by this time, it was becoming clear that the Class 314's time in service was coming to an end. As it would take a great deal of money to upgrade the fleet to make them compatible with the Person of Reduced Mobility legislation being brought in on 1st January 2020, the days were numbered for the fleet. None of the class 314's had CCTV, toilets or selective door controls, which are all requirements for the legislation.
Not long after the relivery of 314214 was completed, it was announced Scotrail were investing in new class 385 trains built by Hitachi. As well as having enough units to cover a number of newly electrified lines, there was also to be enough to replace the class 314's. It was initially expected that all the class 314's would be withdrawn during 2018, however delays in the introduction of the class 385 meant that the 314's remained in service until the December 2019 timetable change.
314209+314214 at PattertonThe final pair of Class 314's to receive the Scotrail Saltire livery - 314209+314214 pause under the platform lights at Patterton with 2N09 19.28 Neilston - Glasgow Central 14.10.19
Withdrawal Begins
The withdrawal of the class 314's began on 21st September 2018 when 314207, 314212 and 314213 were withdrawn from service. This was due to there being enough 380's made available to cover a number of the class 314's Gourock and Weymss Bay diagrams. The extra 380's were available as there was a the reduction in units heading to Ayr due to the dangerous condition of the station hotel there. The full length of the platforms could not be used at Ayr for a time meaning only 3/4 car trains could go there instead of the usual 6/7 car trains.
314207, 314212 and 314213 were coupled together transferred under their own power to Yoker depot for storage.
Temporary Reinstatement
314208 at Glasgow Central314208 awaits departure from Glasgow Central with 2D27 12.42 service to Paisley Canal 1.3.19
A couple of weeks after 207, 212 and 213 were withdrawn, an issue with the class 385's resulted in their temporary withdrawal from service which lasted for a couple of weeks. Left with a temporary shortage of units, 314207 and 314213 were hastily returned from Yoker Depot to Shields Depot and after maintenance, were reinstated to service on 8th October 2018. 314212 remained withdrawn however as it had already surrendered some parts to keep the others in service.
On 3rd November 2018, 314213 was officially withdrawn for the second and final time (having not been used since 12th October and spending most of it's brief return to service working in multiple with another unit) along with 314204 (which wasn't seen in service after 20th October) and both units were transferred to Yoker for storage. 314207, which was in the initial batch of 3 units to be withdrawn, remained in service until May 2019.
More withdrawals
A further withdrawal followed during November 2018 with 314206 being stored on 23rd November, presumably after failing in service as it's final working was the 13.24 service from Gourock - Glasgow Central. 206 was followed by 314210, which was withdrawn on 11th December 2018. 314210's withdrawal didn't last long however as the unit returned to service during week beginning 7th January 2019. 314210's reinstatement was probably to replace 314201 which was withdrawn on 28th December 2018.
Scrapping begins
314212 at Glasgow CentralScotrail Saltire liveried 314212 awaits departure from Glasgow Central with 2N32 11.05 Glasgow Central - Neilston 15.9.18
On 9th January 2019, 314212 was moved from Yoker to Eastfield EMD under its own power before being towed the short distance from Eastfield, through Springburn and along the unelectrified tracks into Glasgow Works by 37800. 212 was stripped for any spare parts needed to keep the remaining fleet in service then taken a vehicle at a time by lowloader to EMR Kingsbury to be scrapped during week beginning 29th January 2019.
Next to follow was 314213. 213 was unable to move under it's own power so was towed to Glasgow Works via Coatbridge Central by 37884 on 12th February. 213 was also to be stripped for spare parts, moving by road to Kingsbury for scrapping during week beginning 4th March.
Further use?
314204 became the third 314 to make what was expected to be it's final journey on 13th March 2019 when it was hauled from Yoker to Glasgow Works by 37884. It had been expected that 314204 would be stripped for spares at Glasgow Works before being taken by low loader for scrapping, however, 314204 was loaded onto 3 low loaders and transported south to Eastleigh on 14th March 2019, for what was rumoured to be further temporary use with London Overground. This never materialised and 314204 now appears to have been scrapped, having been moved into the scrap line at Eastleigh during July 2020.
37884+314204 at GartcoshEurophoenix liveried 37884 hauls Scotrail Saltire liveried 314204 on its final journey by rail as it passes through Gartcosh on 5Q06 Yoker - Glasgow Works. 314204 will be stripped for spares there before being taken away by road for scrapping. 13.3.19

Update: 314204 has been transported by road and is rumoured to be heading to Eastleigh for possible further use by London Overground 16.3.19
More Scrapping
314206 was hauled south on 14th March 2019, departing from Shields for the last time, being hauled by 37884 on it's final journey to Newport Docks for scrapping. 314201 was also supposed to be in the consist, however, due to an air leak (possibly due to parts having been removed for spares) it was unable to be taken away by rail and remained at Shields. This reprieve did not last long, however, and after temporary repairs were made to the unit, 201 was hauled to Newport on 26th March by 57312 for scrapping.
Further Withdrawals
314208 became the 6th 314 to be permanently withdrawn as it was stored after service on 5th April, This was followed less than a month later by 314211, which was stored after service on 1st May. Both units were transferred to Yoker for further storage in early June 2019.
It wouldn't be long before the next withdrawals would take place as the May timetable change on 19th May saw the use of class 314's decline dramatically. With over 60 class 385's having entered service and with the 385's replacing 318's and 320's on all bar one of the Glasgow Central - Lanark diagrams, it freed up enough class 318's and 320's to take over all but 3 early morning journeys on the Gourock service and also allowed the Paisley Canal route to be service by a 318 or 320 and 380 split on weekdays. With only 5 diagrams left to be worked by class 314's (on weekdays, mostly on the Cathcart Circle), only 6 units were required, meaning 314207, 314210 and 314215 were all withdrawn from service after their final journeys on 18th May.
It appears, however that 314210 was soon re-instated again as it was noted in service on Saturday 25th May. 314215 was transferred to Yoker for further storage during week beginning 27th May, with 314207 following on 2nd June.
37884+314211 at CarlisleEurophoenix Rail Operations Group liveried 37884 'Cepheus', hauling Scotrail Saltire liveried 314211 on part one of it's final journey to the scrapyard, pauses at Carlisle whilst working 5Q78 Yoker - Crewe South Yard ECS empty stock move. 15.8.19
Further Scrapping
On 15th August 2019, 314211 became the 5th class 314 to be taken south for scrapping. It was hauled south from Yoker to Newport via Crewe South Yard by Rail Operations Group's 37884, with 314207 following on 22nd August 2019 and 314208 on 11th September 2019.
The 10th of the class to be withdrawn was the unique 314203, which was withdrawn on 4th September 2019. 314203 remained stored at Shields Depot until 24th November when it was hauled to Glasgow Works by 47727 and 2 barrier coaches. After spending the night there, both driving vehicles were loaded onto trailers and taken west via the M8 to J.R. Adams and Sons in Glasgow for scrapping. Pantograph trailer 71452 didn't head west with the rest of the set but instead was spotted on a trailer heading south on the M6 in Cumbria on 26th November. It's eventual destination was Long Marston where it is to be used for Research and Development.
Final Month of service
Heading into the final month of service for the Class 314's, 6 of the units remained in service with 5 required on weekdays, 3 required on Saturdays and 1 required on a Sunday. The final 6 units remaining in service were: 314202, 314205, 314209, 314210, 314214 and 314216.
Having traveled on the class 314's frequently during their final months in service, here is a flavour of some of their workings from November and December 2019.
On Friday 1st November, 314205, 314214 and 314216 worked the daytime off peak Cathcart Circle and Newton via Maxwell Park services, with 314209+314202 working the 17.18 to Neilston. Saturday 2nd November 2019, 314216 and 314205 saw use on the Paisley Canal services.
314209 at Glasgow CentralWith only weeks left in service, Scotrail Saltire liveried 314209 departs Glasgow Central with 5O24 the 15.08 ECS working to Crosshill. At Crosshill it will work 2O24 15.20 service to Glasgow Central via the Outer circle 22.11.19
Saturday 9th November 2019 saw an additional 314 out in service with 314214 working on one of the three Cathcart Circle / Newton via Kings Park diagrams that were usually worked by 318/320's at the weekend (but by 314's during the week). 314202 worked the xx.20 Newton via Queens Park services from 15.20 onwards, while 314209 and 314216 worked the Paisley Canal services.
Friday 22nd November saw 314205, 314209 and 314210 work the daytime off peak Cathcart Circle and Newton via Maxwell Park services with 314202+314216 on the 17.18 to Neilston.
Saturday 30th November 2019 saw 2 of the units failing in service with 314210 failing whilst working one of the xx.42 Paisley Canal services and being replaced by 314205. 314209 operated the xx.12 service on that day. 210's breakdown couldn't have been too bad as the unit was returned to service a couple of days later.
The same could not be said for 314214, which failed at Pollokshields East while working the 15.49 service from Newton - Glasgow Central, causing major disruption to the service. 314214 had to be towed back to depot and never returned to service. 314202 replaced 314214 for the remainder of the day.
Monday 2nd December saw 314209 work singly instead of the usual pair of units on the 7.55 Neilston - Glasgow Central service, probably as a result of the failure of 314210 and 314214 on 30th November.
Friday 6th December saw 314202, 314205 and 314210 work the daytime off peak Cathcart Circle and Newton via Maxwell Park services with 314209+314216 on the 17.18 to Neilston.
Final Week of service
By the final week of service, there was only 5 of the class available for service and on weekdays, there was a full turnout for the class. Known Class 314's in service from Saturday 7th December 2019 through to their farewell tour on Wednesday 18th December 2019 were:
Saturday 7th December 2019: 314205 (Newton), 314202, 314210 (Paisley Canal)

Sunday 8th December 2019: 314205 (Neilston / Newton)

Monday 9th December 2019: 314205, 314209, 314216 (daytime off peak Cathcart Circle and Newton services) 314202+314210 (Neilston peak diagram)

Tuesday 10th December 2019: 314202, 314205, 314216 (daytime off peak Cathcart Circle and Newton services) 314209+314210 (Neilston peak diagram)

Wednesday 11th December 2019: 314209, 314210, 314216 (daytime off peak Cathcart Circle and Newton services) 314202+314205 (Neilston peak diagram)

Thursday 12th December 2019: 314205, 314210, 314216 (daytime off peak Cathcart Circle and Newton services) 314202+314209 (Neilston peak diagram)

Friday 13th December 2019: 314202, 314205, 314216 (daytime off peak Cathcart Circle and Newton services), 314209+314210 (Neilston peak diagram)

Saturday 14th December 2019: 314210, 314216 (Paisley Canal)

Wednesday 18th December 2019: 314202+314205 (Farewell Tour)
Final Day in Service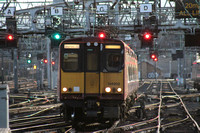 314202 at Glasgow CentralOn it's second last day of 40 years of public service SPT Carmine and Cream liveried 314202 crosses over the complex trackwork on the approach to Glasgow Central with 2I23 15.15 Cathcart Inner Circle service 13.12.19
Saturday 14th December was the final day in service for the class 314. Initially only 314210 was out in service (on xx.42 Paisley Canal workings) after 314216 failed with a faulty headlight prior to entering service, however it was soon repaired and entered service from the 12.12 service to Paisley Canal and worked all afternoon. Both units worked until the 17.05 (314210) and the 17.35 (314216) services from Paisley Canal. On their return to Glasgow Central, both units were coupled together and headed back to Corkerhill for the final time.
At Corkerhill, they were coupled to 314209, which had operated it's last service the previous day, and the three units made their way to Yoker depot, where they were stored. 314202 and 314205 were moved to Shields Depot from Corkerhill, where they had finished their final workings and joined 314214 had also been in situ since it failed in
314210 at Paisley CanalOn it's final day of service, SPT Carmine and Cream liveried 314210 prepares to depart Paisley Canal with 2D24 12.05 service to Glasgow Central 14.12.19
service on 30th November. 314215 was transferred from Yoker to Glasgow Works on 16th December prior to being loaded up onto low loaders to be transferred by road for scrapping.
After returning to Shields, 314205 received some work to tidy up it's paintwork and remove the remainder of the graffiti that it received sometime in late 2018 in time for the farewell tour. 314205 looked a lot more presentable that it had done for a while beforehand. Both 314202 and 314205 were also washed.
Farewell Tour
314202 and 314205 operated the Class 314 farewell tour around the Glasgow area on Wednesday 18th December 2019. Starting from Glasgow Central, the units headed out to Ayr, then returned back to Glasgow Central before heading to Carstairs and Cumbernauld. After returning to Glasgow Central via a reversal at Motherwell, both units headed out to Helensburgh Central and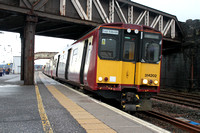 314202+314205 at CarstairsPreparing to leave Carstairs for the final time, 314202+314205 are heading not for East Kilbride, but for another location they never reached in passenger service: Cumbernauld!
They are working 2W98 10.10 Glasgow Central - Cumbernauld Class 314 Farewell tour 18.12.19
then returned to Glasgow Central low level where the tour ended. The units then headed off back to Shields for the final time to await their final journey for scrapping.
End of the line
On 14th January 2020, 314214 was loaded onto low loaders at Shields, with the driving vehicles being taken away to J.R. Adams and Sons scrap yard in Glasgow, while pantograph trailer 71453 was seen heading south on the back of a loader on 16th January 2020. 314202 and 314205 were loaded onto low loaders at Shields depot between 15th and 22nd January 2020 to be taken away to J.R. Adams and Sons scrap yard in Glasgow with most of the vehicles being scrapped on arrival at the scrapyard. As per 314214, pantograph trailers 71451 and 71454 were loaded onto low loaders and taken to Long Marston.
314216+314210 were moved from Yoker to Shields under their own power on 9th February 2020 with 314216 being loaded onto low loaders and taken to J.R. Adams and Sons scrap yard where the driving vehicles were scrapped on arrival on 10th February. 314210 followed on it's final journey on 11th February 2020, again both driving vehicles were scrapped on arrival. As with the other recent scrapped units, the Pantograph Trailer vehicles from both units were taken by low loader to Long Marston. One unit remained at Yoker, 314209.
Hydrogen Trials
314209 at Yoker DepotSeen from the Kelso St overbridge, the final remaining fully intact Class 314, 314209, is seen stabled in a siding at Yoker Depot 24.7.20
It was announced on 21st February 2020 that a class 314 would be used for testing of technology for trains powered by Hydrogen. Conversion work is to take place at Brodies Engineering in Kilmarnock, with the technology being developed by London based Arcola Energy with involvement from St Andrews University. Conversion and testing is to take place at Bo'ness then eventually on the main line. 314209, the final remaining intact class 314, will be used for the trial. 314209 remained stored at Yoker until 16th December 2020, when it was transferred under it's own power sandwiched between 318253 and 320414 to Shields for onward road travel to Bo'ness for work on the conversion to commence.
On arrival from Shields, 314209 was split into three parts with DMSO vehicle 64599 taken by Alleys low loader to Bo'ness on Thursday 17th December 2020. PTSO vehicle 71458 and DMSO vehicle 64600 arrived at Bo'ness on Friday 18th December 2020.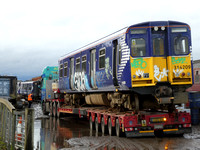 314209 at Bo'nessVehicle 64600 from 314209 is seen being delivered by low loader to Bo'ness, where conversion to hydrogen power will begin 18.12.20
Work started on the conversion of the 314 to Hydrogen power in January 2021 and has involved the removal of most of the original electrical equipment from the 314 either for refurbishment or for replacement. New equipment fitted has included AC motors (314209's original motors were DC), a new system of batteries to allow it to run off battery power if required and hydrogen tanks fitted below the underframe. The interior of the unit is also being refurbished with the old seating having been removed and replaced with Pendolino style seating and new flooring. The original wall panels and lighting has been maintained. The Pantograph trailer has been completed, however work is still ongoing on the DMSO vehicles.
314209 became 614209 in October 2021 and has been outshopped in Scotrail Saltire Blue with 'Scottish Hydrogen Train project' branding. The aim is for 614209, to move under its own power around the yard at Bo'ness in March 2022 and and over the full length of the 5 1/2 mile long line in May 2022. 614209 was on static display at Bo'ness station during COP 26.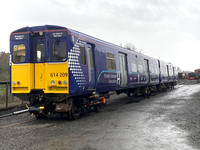 614209 at Bo'nessSeen at the headshunt in the yard at Bo'ness, vehicles 64600 and 71458 from Hydrogen unit 614209 (formerly 314209). The photo was taken from a public footpath 18.2.22
Current Status
Of the initial 16 class 314's, only 314209 remains with 314201-314208 and 314210-314216 having been scrapped.
Class 314 Fleet List
Key
CC - Carmine and Cream Livery with Cream doors
SR - Saltire Blue and White livery
| | | | | | | |
| --- | --- | --- | --- | --- | --- | --- |
| Unit Number | Livery | Vehicle Numbers | Withdrawal Date | Final Service Worked | Notes | Photo |
| 314201 | CC | 64583 71450 64584 | 28.12.18 | 7.55 Neilston - Glasgow Central | Stored at Shields until 26.3.19. Hauled to Newport Docks by 57312 for scrapping 26.3.19 | |
| 314202 | CC | 64585 71451 64586 | 13.12.19 | 18.28 Neilston - Glasgow Central | First Class 314 to enter service on the Argyle line. Worked on the Farewell Tour on 18.12.19 Loaded onto low loaders at Shields depot between 15.1.20 and 22.1.20 and taken to J.R. Adams and sons, Glasgow for scrapping. Driving Trailers Scrapped on arrival. Pantograph trailer 71451 was taken south to Long Marston for Research and Development purposes. | |
| 314203 | SR | 64587 71452 64588 | 4.9.19 | 7.55 Neilston - Glasgow Central | Unit was involved in the Newton crash with 303037 in 1991. Original vehicle 64588 was destroyed, unit reformed from a 3rd rail class 507 unit. Vehicle refurbished with then modern lighting and seating. Carried the name 'European Union' for a time in the late 1990's / early 2000's. Unit split with driving vehicles heading to J.R. Adams and Sons, Glasgow for scrapping and pantograph trailer 71452 heading south to Long Marston for Research and Development purposes. | |
| 314204 | SR | 64589 71453 64590 | 2.11.18 | 7.55 Neilston - Glasgow Central on 20.10.18 | Stored at Yoker until 13.3.19. Hauled by 37884 to Glasgow Works. Transported to Eastleigh by low loaders on 14.3.19 for rumoured further use by London Overground. Unit spotted in scrap line at Eastleigh and now presumed to have been scrapped July 2020 | |
| 314205 | CC | 64591 71454 64592 | 13.12.19 | 18.28 Neilston - Glasgow Central | Derailed outside Central Station in September 2001, was out of use for 3 months. Stored Shields Depot. Worked on the Farewell Tour on 18.12.19. Loaded onto low loaders at Shields depot between 15.1.20 and 22.1.20 and taken to J.R. Adams and sons, Glasgow for scrapping. Scrapped on arrival. Pantograph trailer 71451 was taken south to Long Marston for Research and Development purposes. | |
| 314206 | CC | 64593 71455 64594 | 23.11.18 | 13.24 Gourock - Glasgow | Stored at Shields until 14.3.19. Taken by rail to Newport Docks by 37884 on 14.3.19 for scrapping. | |
| 314207 | CC | 64595 71456 64596 | 18.5.19 | 20.24 Gourock - Glasgow Central | Withdrawn at end of service on 21st September 2018. Reinstated to service on 8th October 2018. Withdrawn for 2nd time on 18th May 2019 and transferred to Yoker for further storage on 2nd June 2019. Hauled south to Newport Docks via Crewe for scrapping on 22.8.19 | |
| 314208 | SR | 64597 71457 64598 | 5.4.19 | 8.35 Cathcart Inner Circle on 5.4.19 | Stored at Yoker Depot until 11.9.19. Hauled south to Newport Docks via Crewe for scrapping on 11.9.19 | |
| 314209 | SR | 64599 71458 64600 | 13.12.19 | 19.28 Neilston - Glasgow Central | Stored Yoker Depot until 16.12.20, moved there from Corkerhill depot on 14.12.19. 314209 is expected to be used for testing of technology for trains powered by hydrogen. Moved to Shields for onward road travel to Bo'ness 16.12.20. Transferred by road to Bo'ness 17.12.20 and 18.12.20. Renumbered to 614209 in October 2021 | |
| 314210 | CC | 64601 71459 64602 | 14.12.19 | 17.05 Paisley Canal - Glasgow Central | Withdrawn 11.12.18,reinstated 7.1.19. Stored 18.5.19 at Shields, reinstated 25.5.19. Stored Yoker Depot until 9.2.20. 64601 and 64602 transported by low loaders from Shields Depot - J.R. Adams and Sons, Glasgow for scrapping 11.2.20. Scrapped on arrival. | |
| 314211 | SR | 64603 71460 64604 | 1.5.18 | 21.19 Newton - Glasgow Central | Stored at Yoker Depot until 15.8.19. Hauled south to Newport Docks via Crewe for scrapping on 15.8.19 | |
| 314212 | SR | 64605 71461 64606 | 21.9.18 | 7.55 Neilston - Glasgow Central on 20.9.18 | First 314 in Saltire livery. Withdrawn at end of service on 21st September 2018. Stored at Yoker until 9.1.19. Taken to Glasgow works to be stripped for spares. Taken to Booths (Rotherham) by low loader for scrapping w/b 28.1.19. | |
| 314213 | CC | 64607 71462 64608 | 2.11.18 | 9.05 Neilston - Glasgow Central 12.10.18 | Withdrawn at end of service on 21st September 2018. Reinstated to service on 8th October 2018. Withdrawn for 2nd time 2nd November 2018. Stored at Yoker until 12.2.19. Taken to Glasgow Works to be stripped for spares prior to scrapping 12.2.19. Taken by low loader to Kingsbury for scrapping w/b 4.3.19 | |
| 314214 | SR | 64609 71463 64610 | 30.11.19 | 15.49 Newton - Glasgow Central | 64609 and 64610 transported by low loaders from Shields Depot - J.R. Adams and Sons, Glasgow for scrapping 14.1.20. Pantograph trailer 71463 seen being transported south on low loader on M74 16.1.20 | |
| 314215 | CC | 64611 71464 64612 | 18.5.19 | 23.12 Glasgow Central - Paisley Canal | 64611 and 64612 transported by low loaders from Shields Depot - J.R. Adams and Sons, Glasgow for scrapping. Pantograph trailer 71464 seen being transported south on low loader on M74. Pantograph trailer 71464 was taken south to Long Marston for Research and Development purposes. | |
| 314216 | CC | 64613 71465 64614 | 14.12.19 | 17.35 Paisley Canal - Glasgow Central | Stored at Yoker depot until 9.2.20. Driving vehicles taken to J.R. Adams and Sons scrap yard for immediate scrapping on 10.2.20 | |