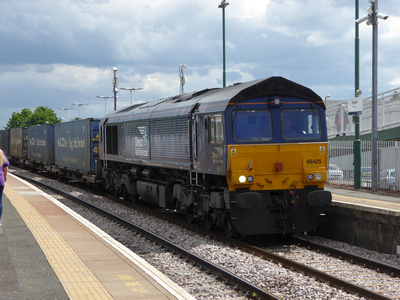 I headed to Camelon today, my intention was to catch the Dalston tanks and the Aberdeen containers. The Dalston Tanks, however were running 25 minutes early and had already passed through before I arrived! I did catch the containers though!
Here are my sightings:
170394 prepares to depart Camelon with 2P38 Dunblane - Edinburgh Waverley
66425 passes through Camelon with 4A13 Grangemouth - Aberdeen containers
156457, still in the First Barbie livery, departs Camelon with 2J66 Glasgow Queen Street - Falkirk Grahamston
After passing through 2 massive downpours with thunder and lightning, I stopped off at Greenfaulds and caught 318268 still in SPT livery
SPT Carmine and Cream liveried 318268 departs Greenfaulds with 2V50 Dumbarton Central - Cumbernauld
I had headed to Gartcosh to catch the Alcan tanks passing through, however another thunderstorm started with torrential rain so I just went home!