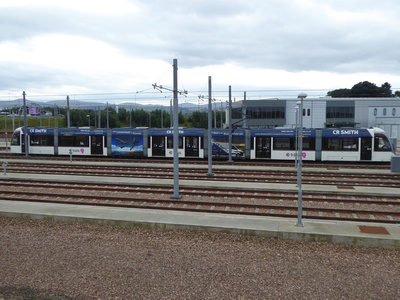 Adverts 3 -6 of CR Smith's advertising contract for 18 trams have now been applied to the Edinburgh fleet. Each advert features stunning artwork pairing iconic Scottish locations or images that reflects not only the geographical spread of CR Smith's customer base, but also celebrates Scotland's soul and personality.
The latest batch sees:
Glasgow's cone crowned Duke of Wellington with the white and orange striped lighthouse at Peterhead (260)
Lossiemouth's RAF fighter plane and Kinross Geese (263)
A Mountaineer climbing Glen Nevis and a diver at North Queensferry (261)
A sandcastle on Troon Beach and Edinburgh Castle (272)
261's advert replaces the Edinburgh Festival advert that the tram carried during late July / August. Unfortunately I didn't catch 260 but saw the other three. Here are the advert sections of the 3 trams.