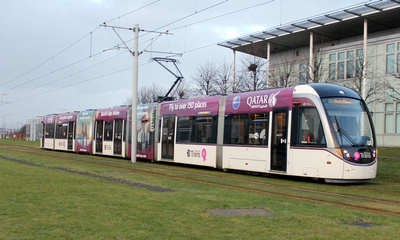 Edinburgh's CAF Urbos 3 tram 271 is the latest of the Edinburgh fleet to receive an external advert. This will be the first time that 271 has received an external advert.
271 is advertising Qatar Airways and is the second company to advertise on the trams.
The advert is mainly maroon based and continues the tradition of the advert liveried tram of the advert being located along the top of the tram with sections 3 and 5 having full length adverts containing contravision.
12 trams were in service today, these were 252, 253, 255, 257, 258, 264, 267, 271, 273, 274, 275 and 277. 253 261 (not in service today) and 273 have all recently returned to service following many months stored. The fleet are cycled in and out of service on a regular basis to allow the fleet to get equal usage.