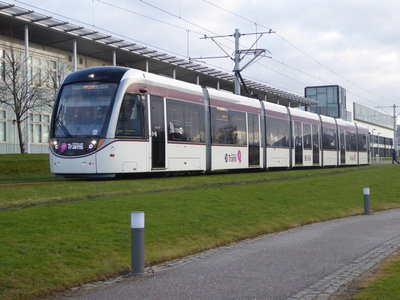 An hour at Edinburgh Park Central this afternoon allowed all 12 trams on todays 7 minute service to be viewed and photographed.
In service today were trams: 255, 274, 265, 267, 258, 277, 252, 270, 269, 275, 257 and 271 (9 in CR Smith adverts and 3 in fleet livery).
Figures released have indicated a 19% increase in passenger numbers during 2017 with 6.6 million passenger journeys, up 1 million on the previous year.
There are also trials underway to double the frequency during peak times.
Also noted today was that no 271 had stickers added to the windows next to 2nd and central sections indicating priority seating.
| | | | |
| --- | --- | --- | --- |
| | | | |
| 255 | 274 | 265 | 267 |
| | | | |
| 258 | 277 | 252 | 270 |
| | | | |
| 269 | 275 | 271 | 257 |