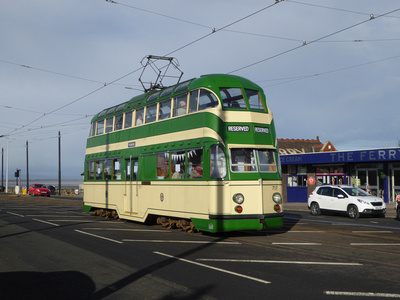 I was in Blackpool for the February holiday weekend and the heritage tram service was in operation. The blue timetable, which operates between Pleasure Beach and North Pier with 4 journeys to Cabin.
On Saturday, the service began with Balloon 717 and Ex Towing Railcoach 680 (I think), it was swapped over for Brush Car 630 after 1 journey. 717 was on route A (first 2 workings to Cabin of the day) and 630 was on Route B (last 2 Cabin workings).
680 was later seen stabled in front of the electrical compound at Rigby Road depot. Centenary car 642 was also spotted on the depot fan complete with a pair of newly repainted trucks. Also prominent at the front of the depot was Balloon 711, complete with snowploughs.
It was heat free Sunday as it was absolutely freezing out on the Prom and both trams in service didn't have heaters! However this was more than made up for by Balloon 715 (route B) being one of the trams! The other was Brush Car 631(Route A) (which had its heaters removed when it had its swingover seats retrofitted). Balloon 717 was also out, however it was working a Private Hire, which took in Fleetwood and the Pleasure Beach.
Monday saw a return to heater fitted trams with Brush Car 630 on Route A and Balloon 717 operating on Route B. There was a depot shunt taking place with Brush Car 632 spending some time on the depot fan and Bolton 66 on Hopton Road. Over the weekend Flexities 001, 2, 3, 4, 5, 8, 9, 10, 12, 13, 14 and 15 were seen, however there was no sign of 6,7,11,16, 17 and 18.
| | | | |
| --- | --- | --- | --- |
| Day | Route A | Route B | Private Hire |
| Sat | 717 | 630 | |
| Sun | 631 | 715 | 717 |
| Mon | 630 | 717 | |
photographs from the weekend can be found at: http://scottishtrains.zenfolio.com/p890382945