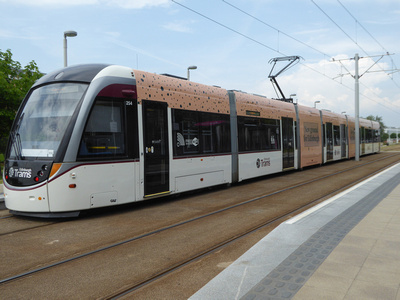 Another week and yet another new advert livery on the Edinburgh Tramway! 254 has received an advert for Parabola, who are developing a new "community and architectural exemplar" at Edinburgh Park. The advert features a pinkish coloured base with dark green spots, which runs along the top of the tram and the whole of sections 3 and 5 on each side.
On one side, sections 3 and 5 contain the following text: "a new community and architectural exemplar at Edinburgh Park by Parabola" in small text near the top, then "Edinburgh Park" in large text and the website address "myedinburghpark.com" in small writing.
The other side also has the website address but has the following text in sections 3 and 5: "Edinburgh Park" in small text and in large text: "New Ground for Edinburgh".
254 is the 24th tram to receive an advert with only 264, 265 and 268 remaining in fleet livery. A further advert is expected soon as CR Smith have extended their advertising contract to cover 20 trams and 19 trams currently carry CR Smith adverts.
Trams seen in service on 2.6.18 were: 273, 252, 256, 261, 259, 276, 254, 266 and 274