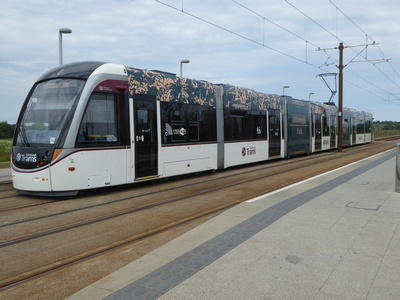 On 4th June, a further 2 Edinburgh trams entered service wearing adverts.
265 has became the 20th tram to carry a CR Smith advert, being the recipient of an identical advert to 256, which received its advert on 21st May. Both trams advertise CR Smith's door window and conservatory upgrade and repair service. One of the panels has 'FIX' in large red letters with the other section listing the items that they can fix. The advert appears to be the same on both sides.
268 became the 2nd tram to carry an advert for Parabola, who are developing a new "community and architectural exemplar" at Edinburgh Park. The advert is identical to the advert that 254 received last week except that the colours are inverted with a mainly green base with the text and patches in the pinky colour (they are the opposite way about on 254).
265 and 268 become the 25th and 26th trams to receive adverts, meaning that tram 264 is now the only Edinburgh tram not currently wearing an advert.
Trams seen on 8th June were: 261, 252, 260, 265, 268, 273, 276
| | | | |
| --- | --- | --- | --- |
| | | | |
| 265 | 265 | 265 | |
| | | | |
| 268 | 268 | 268 | 268 |