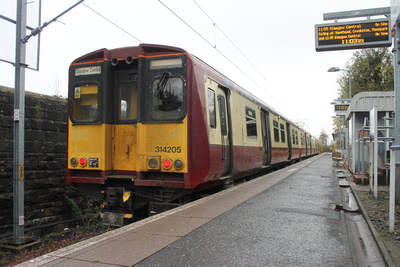 With only a few weeks remaining until the class 314's are withdrawn for good, seven of the original fleet of 16 of the class remain in service (314202 / 203 / 205 / 209 / 210 / 214 / 216), albeit in a much reduced role than they were previously used to.
Five of the class continue to see use on weekdays, with three on a Saturday and one on a Sunday.
I was in Glasgow for a couple of hours on 2nd November and there was 2 class 314's in service, both on the Paisley Canal service.
314216 was operating the xx.12 service and 314205 on the xx.42 service.
A swap of units occurred and 314216 found its self on the 11.25 service to Gourock with 380016 ending up on the Paisley Canal services.
At Shields - 314203 was seen towards the east of the depot with it's pantograph up while 314210 was stabled at the west end near the sheds with it's pantograph down (presumably for maintenance).
At Corkerhill - 314214, 314202 and 314209 were stabled awaiting their next duties.