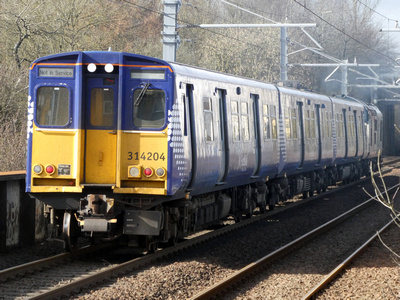 When 314204 was hauled to Glasgow Works on 13th March by 37884, it was expected that the set would be stripped for spares, then transported by low loader to Kingsbury for scrapping, however in a twist to this story, the unit was loaded onto 3 separate low loaders on 14th March and transported south with it's ultimate destination expected to be Eastleigh.
There are rumours that 314204 may see further use with London Overground until their new fleet of units are ready for use.
314206 was hauled by 37884 from Shields to Newport Docks on 14th March for scrapping. 314201 was also expected to be taken for scrapping at the same time, however it had developed air leaks and was unable to be moved so is still stored at Shields depot.