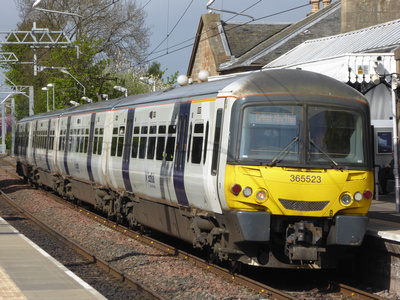 Week beginning 11th March saw the class 365 'Happy Trains' run their final services for Scotrail.
The 365's were on loan for a year due to the initial delays to the class 385's entering service and a shortage of stock as some of the DMU fleet going off lease.
10 of the 365's saw use for Scotrail, initially on the E&G line and laterally on the Edinburgh - Dunblane line, however there are now enough 385's available for service to allow the 365's to be stood down.
The 10 class 365's: 365509, 513, 517, 519, 521, 523, 525, 529, 533 and 537 are currently stored at Yoker, Shields and Eastfield until they are moved back south and returned to their leasing company.
The photo shows 365523 pausing at Linlithgow on its first driver training working for Scotrail with 2Z52 Glasgow Queen Street - Linlithgow UPL on 10th May 2018.