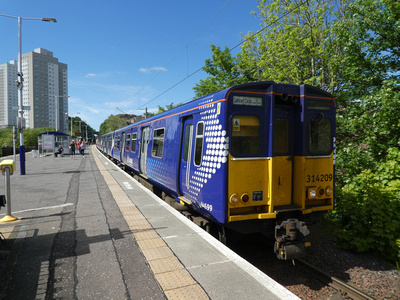 A short trip into Glasgow this afternoon allowed for a couple of runs on the western side of the Cathcart circle by 314.
Catching the 15.15 Cathcart Inner Circle service, which was formed of Scotrail liveried 314209 and SPT Carmine and Cream liveried 314202, I headed out to Pollokshaws East. This was the first time I had actually got off a train at this station.
I got off here and a short time later, caught 314203 heading the opposite direction with the 15.19 service from Newton - Glasgow Central. I had been going to change at Maxwell Park and head out to Newton onboard a 385, however I decided to stay on board 314203 and return into Glasgow. One of the sets of wheels on the leading bogie of vehicle 64587 of 314203 has a wheel flat, which was really loud and noticible!
314214+216 also came out at the evening peak, to work a couple of Neilston services, however I was already on my way home by this point.
| | | | |
| --- | --- | --- | --- |
| | | | |
| Scotrail liveried 314209 + SPT Carmine and Cream liveried 314202 await departure from Glasgow Central with 2I23 15.15 Cathcart Inner Circle service 24.5.19 | SPT Carmine and Cream liveried 314202 on the rear of 314209 await departure from Glasgow Central with 2I23 15.15 Cathcart Inner Circle service 24.5.19 | SPT Carmine and Cream liveried 314202 on the rear of Scotrail liveried 314209, await departure from Glasgow Central with 2I23 15.15 Cathcart Inner Circle service 24.5.19 | the interior of vehicle 64599 from 314209 24.5.19 |
| | | | |
| Scotrail liveried 314209 + SPT Carmine and Cream liveried 314202 pause at Pollokshaws East with 2I23 15.15 Cathcart Inner Circle service 24.5.19 | Scotrail liveried 314209 + SPT Carmine and Cream liveried 314202 depart from Pollokshaws East with 2I23 15.15 Cathcart Inner Circle service 24.5.19 | Scotrail Saltire liveried 314203 arrives at Pollokshaws East with 2M83 15.19 Newton - Glasgow Central via Maxwell Park service 24.5.19 | Scotrail Saltire liveried 314203 seen at Glasgow Central having just arrived with 2M83 15.19 service from Newton via Maxwell Park service 24.5.19 |