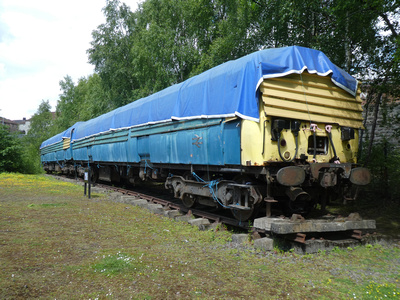 I had a quick look at 311103 today when visiting Summerlee.
The 311s and a number of unrefurbished 303s were withdrawn in 1990 when the class 320s entered service on the Balloch, Helensburgh- Airdrie/ Drumgelloch Line. Most of the 311's were scrapped, however two sets, 311103 and 311104 survived and found a new use as Sandite units (renumbered 936103 and 935104), and saw further use until 2001.
311104 was scrapped at Immingham in 2002 whilst 311103 was preserved, finding its way to Summerlee Heritage Park in Coatbridge, where it was repainted into a coat of BR Blue. However in 2006 when the park was being refurbished, the set was moved from its prominent position in front of the main building to an area round at the back at the furthest point away from the entrance. Driving trailer 76414 was sold to VSOE who wanted the Bogies for one of their pullman carriages, whilst the remainder of the vehicle was scrapped. The 2 remaining vehicles had their windows covered with corrugated cladding to protect their windows from vandalism. Both vehicles remain in the same location today looking forlorn.