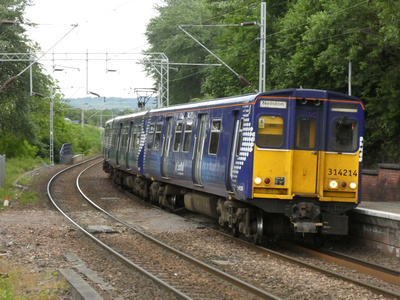 I visited Patterton this evening to catch a couple of the class 314 early evening workings.
First up was 314214 arriving with 2N08 19.05 Glasgow Central - Neilston service. This unit working this particular diagram is now the only one to see a full days service (mainly works on Cathcart Circle and Newton services during the day before switching to Neilston services in the evening). The other remaining Class 314 diagrams either finish after the evening peak or are only out during the morning / evening peaks.
The other working that was seen with class 314 operation was Scotrail liveried 314214 and SPT Carmine and Cream liveried 314202 arriving with 2N09 19.28 Neilston - Glasgow Central service.