The Class 313s are rumoured for withdrawal during 2023 so I decided that I had to make sure I sampled them and photoed as many as possible! As part of a week long trip to the South Coast, I enjoyed a couple of days travelling on some 313s
The Class 313 is part of the PEP family of units and were built in 1976 / 77 as dual voltage stock. The remaining examples in passenger service are now 3rd rail only and have had their pantograph removed. 19 sets (313201 - 313217, 313219-313220) of the once 64 strong fleet remain, with 17 of them being in passenger service with 313214 and 313217 having already been withdrawn from service.
313221 remains in sporadic use as a dual voltage test train for Network Rail. The class 313s are now one of the oldest main line passenger trains left on the network with only the 1972 Bakerloo line stock and 1973 Piccadilly line stock on the London Underground older.
The Class 313s currently operate on the following services:
Brighton - Portsmouth & Southsea / Portsmouth Harbour
Littlehampton - Portsmouth & Southsea / Portsmouth Harbour
Bognor Regis - Barnham Shuttle
Bognor Regis - Littlehampton
Brighton - Hove Shuttle
Brighton - Seaford
Football specials in the Brighton area
Trip report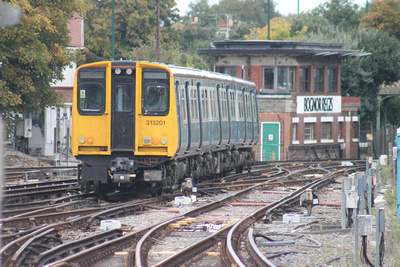 11th October
Arriving from Eastleigh by 377 on the 11th October, I photoed 313208, which was working on the Hove Shuttle. I then went over to the far end of the station to catch 313204 out to Lewes.
It was very clear from seeing 313204 that the class 313s are in their final months of service, with the exterior condition of the train being poor, with missing, worn out and peeling external vynals and the interior looking very tired and not the cleanest, however, despite this 313204 performed well on the 15 minute journey out to Lewes.
Lewes was a lovely, well kept station, with a nice view at the east end looking towards the old signal box, which gave a nice shot in full sunshine. I spent 90 minutes here and in that time managed to catch the other pair of 313s on the Seaford circuit, 313207 and 313215. As well as the 313s, there was 377s, 387s, 700s, a stone working from Newhaven featuring 59001 and the RHTT top and tailed with 73107 and 73201.
I then headed back into Brighton onboard 313215. After a walk down to Churchill Square for some bus photography, I headed back to the station, where I had time for some more photography while I waited on my train. As well as 313208 shuttling between Brighton and Hove, 313216 had also arrived and was switched off in Platform 2, whilst in the sidings at Lover's Walk, 313203+313205 were coupled up and awaiting use later that night on a football shuttle service. Shortly before 4pm, 313209 arrived from Portsmouth and would form the 4pm train back to Portsmouth and Southsea, which I caught. As I waited for my train back to the hotel in Eastleigh, 313211 arrived from Littlehampton, then soon departed, heading back there.
13th October
After a day out at the Isle of Wight, I returned to Portsmouth and Southsea for the train back to Eastleigh to return to the hotel. As I had time to kill, I caught 313213, which was working on the 19.57 service to Littlehampton to Fratton, where I got off and caught my own train back to Eastleigh.
14th October
I caught a 377 from Eastleigh to Barnham, where I got off and waited for the shuttle to Bognor Regis. 313213 duly arrived from Bognor to operate the return journey, however before getting on the shuttle, I managed to catch a photo of 313212 arriving from Brighton, heading to Portsmouth and Southsea and 313201 'Big Blue' heading to Littlehampton. I then caught the shuttle to Bognor, where I had a wander about then caught 313201 to Littlehampton.
Of all the 313s that I travelled on, 313201, complete with modified BR Blue/Grey retro livery was in by far the best interior and exterior condition of all the 313s that I travelled on, the rest being pretty much run down and tired looking, which is quite understandable given that they will all be withdrawn pretty soon.
At Littlehampton, I caught a pair of 377s to Hove and changed over to 313202 on the Hove Shuttle into Brighton. The sidings at Brighton were reasonably busy with no fewer than 3 x class 313s stabled there, 313211, 313207 and 313220. Unfortunately, I was on a very tight schedule so I didn't have time to catch any of the Seaford workings so I caught the next working back out of Brighton, which was the 2pm service to Portsmouth Harbour with 313215 as the unit of choice and was my final PEP for this trip.
Over the course of this trip and my previous trip down that way in July, I managed to catch / photo 16 of the 20 remaining class in the twilight of their working lives, whether or not they are still in service on my next trip down that way is anyone's guess.
Current Fleet
| | | | | |
| --- | --- | --- | --- | --- |
| Number | Livery | Formation | Status | Photo |
| 313201 | BR Blue / Grey | 62529+71213+62593 | In Service | |
| 313202 | Southern Dark Green, light green, white and grey | 62530+71214+62594 | In Service | |
| 313203 | Southern Dark Green, light green, white and grey | 62531+71215+62595 | In Service | |
| 313204 | Southern Dark Green, light green, white and grey | 62532+71216+62596 | In Service | |
| 313205 | Southern Dark Green, light green, white and grey | 62533+71217+62597 | In Service | |
| 313206 | Southern Dark Green, light green, white and grey | 62534+71218+62598 | In Service | |
| 313207 | Southern Dark Green, light green, white and grey | 62535+71219+62599 | In Service | |
| 313208 | Southern Dark Green, light green, white and grey | 62536+71220+62600 | In Service | |
| 313209 | Southern Dark Green, light green, white and grey | 62537+71221+62601 | In Service | |
| 313210 | Southern Dark Green, light green, white and grey | 62538+71222+62602 | In Service | |
| 313211 | Southern Dark Green, light green, white and grey | 62539+71223+62603 | In Service | |
| 313212 | Southern Dark Green, light green, white and grey | 62540+71224+62604 | In Service | |
| 313213 | Southern Dark Green, light green, white and grey | 62541+71225+62605 | In Service | |
| 313214 | Southern Dark Green, light green, white and grey | 62542+71226+62606 | Withdrawn | |
| 313215 | Southern Dark Green, light green, white and grey | 62543+71227+62607 | In Service | |
| 313216 | Southern Dark Green, light green, white and grey | 62544+71228+62608 | In Service | |
| 313217 | Southern Dark Green, light green, white and grey | 62545+71229+62609 | Withdrawn | |
| 313219 | Southern Dark Green, light green, white and grey | 62547+71231+62611 | In Service | |
| 313220 | Southern Dark Green, light green, white and grey | 62548+71232+62612 | In Service | |
| 313221 | Network Rail Yellow | 62549+71233+62613 | In Service | |