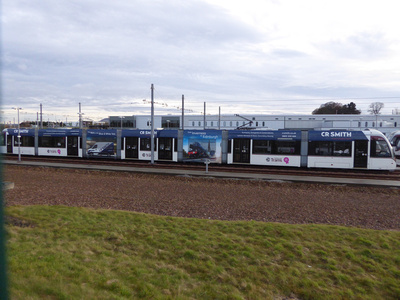 Tram 269 was outshopped in a CR Smith all over advert back in October, however it hasn't been out in service any time I have been to Edinburgh recently so I've never managed to get a photo! (The other tram, which I haven't seen for a while is 253)
However today, 269 was stabled on the track nearest the fence at Gogar Depot, so I managed to get a quick photo. As usual for the Edinburgh trams and the CR Smith advertising campaign, the adverts looks fantastic.
The tram carries the standard CR Smith advert with the phrase 'From Inverness to Edinburgh' and features the Flying Scotsman and an Edinburgh Tram on Princes Street.
There are 19 trams currently carrying advertising, these are:
251, 252, 253, 255, 258, 259, 260, 261, 262, 263, 266, 267, 269, 270, 272, 274, 275, 276, 277
This leaves 254, 256, 257, 264, 265, 268, 271 and 273 advert free at the moment.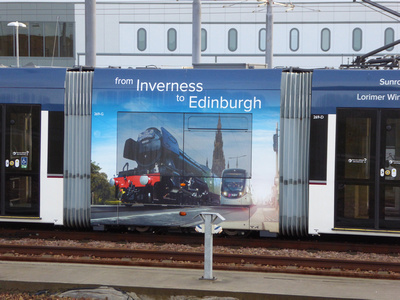 'From Inverness to Edinburgh' panel on 269