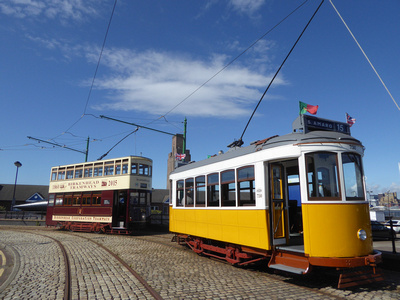 I spent an enjoyable couple of hours on the Birkenhead Tramway on Friday 4th August. It was my first visit to the line and I was very impressed. After getting off the ferry at Woodside, Lisbon 730 and Hong Kong 70 were waiting at the terminus. Lisbon 730 was the service car, whilst Hong Kong 70 was out on Driver Training and was running just in front of the service car.
Hong Kong (Birkenhead) 70 was built in Hong Kong (to the same style as the famous Hong Kong double deckers) in 1992 along with sister car 69, which was in Taylor Street depot. Both trams were delivered to and used occasionally on the Blackpool tramway until 1994 until the Birkenhead line was ready for testing.
Lisbon 730 was built in 1930 and spent many years operating on its native system before it was acquired for further use at the Seaton Tramway. However this didn't happen and eventually after a period in store, 730 ended up at Birkenhead in 2004, where it was restored (and reguaged from 2ft 11 7/16 inches to standard gauge), returning to service in 2006.
After a short 5 minute journey to the Wirral Transport Museum, both trams waited before heading back to Woodside.
Inside the museum were 4 tramcars, these were:
Warrington 28: A 4-wheel G F Milnes car. This was originally car 2, which was withdrawn in the 1930s, and was used as a shelter on a bowling green at Cuddington until 1977. It was based at St Helen's Bus Garage till 2004. Merseyside Tramway Preservation Society began to procure parts to help with it's preservation. The preservation will include a covered top deck with open balconies. Number 2 did not run in this form but number 8 did so the tram will be numbered 28 when complete.
Liverpool Baby Grand 245: 245 moved to Birkenhead in 2006 and restoration started in 2010. After 4 years of Hard work, 245 was completed and ready to grace the rails once more.
Liverpool Corporation Tramways 'English Electric' fully enclosed 8-wheel bogie car No.762. After withdrawal in 1956, the lower saloon was used as a clubhouse for the Newsham Park bowling green. The remains were rescued by the MTPS in 1977, and it was restored intermittently, arriving on the tramway on 6 February 2000. It entered public service in 2001.
Wallasey Corporation Tramways 'Bellamy' Brush 4-wheel car No.78. This tram was built in 1920, although it was old-fashioned in its design, having a covered central section of the upper deck, but open balconies at each end. On closure of the Wallasey system in 1933, it was used for storage on a farm in North Wales. The farmer gave it to the MTPS in 1986, and some initial restoration work was carried out in 1987. In 1997, the society obtained some Heritage Lottery Funding to allow them to complete the restoration, and the tram entered service in August 2002.
The museum also featured many photographs and displays from all the local and now closed tramways as well as some buses, cars and motorbikes from the local area. There was also a model railway.
After visiting the museum, it was time to catch Lisbon 730 back to Woodside. Once again, Hong Kong 70 followed behind and the pair were once again stabled at the terminus.