Following on from the Edinburgh Festival advert tram a further 2 trams have appeared in advert liveries, both being launched today. Edinburgh Tram and CR Smith have signed a 2 year deal for CR Smith to advertise on an incredible 18 out of the 27 strong fleet!
On 9th August, the first 2 adverts were unveiled featuring stunning artwork pairing iconic Scottish locations or images that reflects not only the geographical spread of CR Smith's customer base, but also celebrates Scotland's soul and personality.
The first designs revealed include:
a Musselburgh racehorse racing alongside a Falkirk Kelpie (carried by 266)
the oldest stone bridge in the highlands at Carrbridge, arching over the Forth Rail Bridge (carried by 259, see photo on right)
Glasgow's cone crowned Duke of Wellington with the white and orange striped lighthouse at Peterhead (still to be unveiled).
It should be an interesting time for the Edinburgh Tramway with as many new advert liveries appearing in the next few weeks, talk of a 3 minute service during morning and afternoon peaks and with thoughts also turning to extending the tramway to Newhaven.
Detail of 259's new advert livery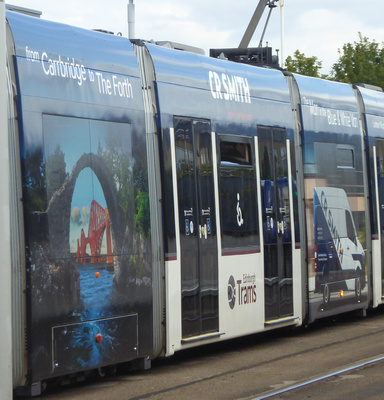 251 in Tramspotting livery at Gogar Depot
Detail on 251's Tramspotting Livery