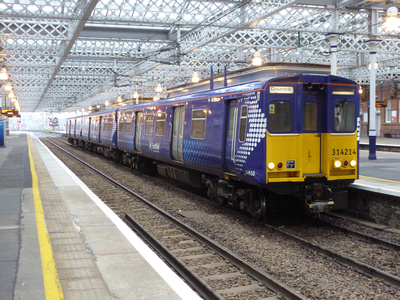 I was heading into Glasgow for lunch, but decided to head in early to ride on and photograph some class 314's. Over the space of 3 hours, I managed to spot, photo or ride on 13 of the 16 members of the fleet.
Starting at Newton, I caught 314203, the only 314 that I had still to get a decent photograph on. 314203 of course is the unit with the unique driving trailer, 64588. 64588 is the second vehicle to carry this number as the original was destroyed in the Newton crash in 1991, when 314203 and 303037 collided just outside the station. Today's 64588 is actually vehicle 64426 from disbanded 3rd rail class 507022. It was converted to work from ac power and used to reform set 203. When it returned to service in the mid 1990's, 64588 was used as a test bed for a number of different types of seating, flooring, lighting diffusers and grab handles. It now carries the standard class 314 low backed seating.
314203 was working 2P15 9.49 Newton - Glasgow Central via Queens Park and ran to time until it reached Croftfoot, when one of the doors didn't close properly and the driver had to get out and close them. This also happened at Kings Park and Mount Florida. 314203 arrived at Glasgow Central 2 minutes late. 314203 then worked 2P18 10.20 Glasgow Central - Newton via Queens Park and also the 11.20 and 12.20 workings.
Enroute, 314207 was seen between Mount Florida and Cathcart with a Cathcart Outer Circle service and 314206+314216 passed at Pollockshields East with a Glasgow Central - Neilston service. The Neilston services were all worked by pairs of class 314's.
I then headed out to Paisley Gilmour Street, 314202 was just arriving into Central with a Neilston service as the service I was on departed. I noted 314213 and 314211 at Shields EMD, 314213 had it's pantograph down. At Gilmour Street, 314214 on 1G03 10.55 Glasgow Central - Gourock was the first of 2 314's seen there, with 314205 on 1W33 10.57 Glasgow Central - Weymss Bay next to arrive. I then headed back to Central, just in time to see 314206+314216 depart with 2N34 11.35 Glasgow Central - Neilston service.
A short time later 314207 arrived into platform 10 at Glasgow Central with 2M91 11.19 Newton - Glasgow Central service then shortly afterwards Saltire liveried 314209 arrives into platform 11 with 2D22 11.35 Paisley Canal - Glasgow Central service. They would depart with 207 working 2G63 12.05 service to Gourock and 209's next working was 2D25 12.12 service to Paisley Canal.
314202 next arrived coupled to 314201 and would form the 2N02 12.05 service from Glasgow Central - Neilston. I got on this working as far as Mount Florida, where I caught 314210+314204 on 2N01 11.58 Neilston - Glasgow Central. 204's rear vehicle was locked out of use. The double set departed Glasgow Central at 12.35 with 2N04 12.35 service to Neilston.
Heading home in the evening, 314203 was seen getting ready to depart Glasgow Central with 2W15 18.38 service to Weymss Bay, while 314207 was seen arriving with it's centre coach in darkness and locked out of use. The only 3 units I didn't see were 314208, 314212 and 314215.