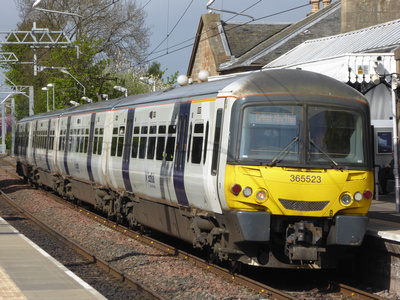 Due to windscreen problems delaying the class 385's from entering service and a number of DMU's due to go off lease in the next few months, Scotrail have temporarily leased 10 class 365's, which have recently gone off lease with Great Northern.
They have kept their front that looks like a smiley face and have essentially kept the Great Northern livery but with doors changed from light to dark blue and Scotrail logos added to the bodysides. The first of three 365's already in Scotland saw its first use on Driver Training today (10th May).
365523 spent the day shuttling between Queen Street or Eastfield and Linlithgow Up Passenger Loop.
Today I caught 366523 on its first journey running from Queen Street - Linlithgow UPL on 2Z52.