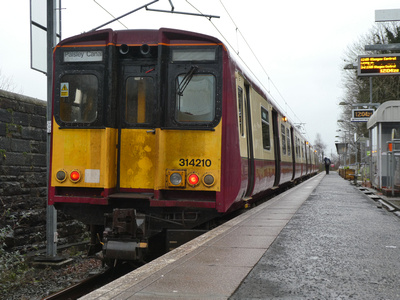 Saturday 14th December was the final day in service for the class 314 initially saw only 314210 out in service (on xx.42 Paisley Canal workings) after 314216 failed with a faulty headlight prior to entering service, however it was soon repaired and entered service from the 12.12 service to Paisley Canal and worked all afternoon. Both units worked until the 17.05 (314210) and the 17.35 (314216) services from Paisley Canal. On their return to Glasgow Central, both units were coupled together and headed back to Corkerhill for the final time.
At Corkerhill, they were coupled to 314209, which had operated it's last service the previous day, and the three units made their way to Yoker depot, where they will be stored until they are taken away to be scrapped. 314202 and 314205 were moved to Shields Depot, where 314214 has also been in situ since it failed in service on 30th November. It is expected that 2 of those 3 units will operate the farewell tour around the area on Wednesday 18th December.
At present the situation is that of the 16 class 314's, 8 are stored and 8 are scrapped. There will be a farewell tour on Wednesday 18th December featuring any three units from 314202 / 314205 or 314214. See https://www.scotrail.co.uk/about-scotrail/news/so-long-farewell-scotrail%E2%80%99s-class-314-goodbye for more details.
The photo shows: On it's final day of service, SPT Carmine and Cream liveried 314210 preparing to depart Paisley Canal with 2D24 12.05 service to Glasgow Central.