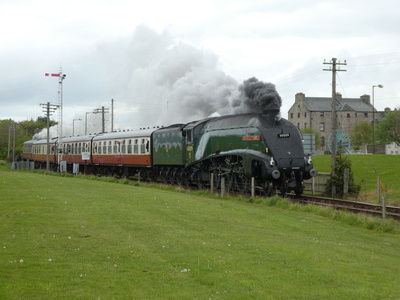 On Monday 6th May (May Day Bank Holiday), the service at the Bo'ness and Kinneil Railway was in the hands of A4 class 60009 'Union of South Africa', which was top and tailed with Caledonian Railway 439 class no 419. 60009 was used as it was visiting the railway, having hauled the previous day's SRPS Railtour to Aberdeen.
Unfortunately I couldn't stay to have a journey onboard, however I managed to get a few photos of the 11.25 from Manuel - Bo'ness and the 12.10 from Bo'ness - Manuel.
Due to the number of passengers wanting to get on board, an extra Mark 1 was brought out from the yard by 27001 and attached to the train prior to departing from Bo'ness on the 12.10 service to Manuel.
| | |
| --- | --- |
| | Caledonian Railway 439 class no 419 top and tailed with British Railways Green liveried A4 60009 'Union of South Africa' approach Kinneil Halt on the Bo'ness and Kinneil Railway with the 11.25 service from Manuel - Bo'ness |
| | British Railways Green liveried A4 60009 'Union of South Africa' seen on the rear of the 11.25 service from Manuel - Bo'ness as it approaches Kinneil Halt |
| | Caledonian Railway 439 class no 419 top and tailed with British Railways Green liveried A4 60009 'Union of South Africa' head along the foreshore on the approach to Bo'ness with the 11.25 service from Manuel - Bo'ness |
| | British Railways Green liveried A4 60009 'Union of South Africa' seen on the rear of the 11.25 service from Manuel - Bo'ness as it approaches Bo'ness |
| | British Railways Green liveried A4 60009 'Union of South Africa' seen at Bo'ness after arrival on the rear of the 11.25 service from Manuel - Bo'ness |
| | British Railways Green liveried A4 60009 'Union of South Africa' pulls forward out of Bo'ness station to allow an additional Mark 1 to be added to the train |
| | British Railways Green liveried A4 60009 'Union of South Africa' pulls forward out of Bo'ness station to allow an additional Mark 1 to be added to the train |
| | BR Blue liveried 27001 brings an additional Mark 1 from the yard to attach to the 12.10 service from Bo'ness - Manuel |
| | British Railways Green liveried A4 class 60009 'Union of South Africa' waits to reverse onto the 12.10 service from Bo'ness to Manuel 6.5.19 |
| | British Railways Green A4 class 60009 'Union of South Africa' heads along the foreshore at Bo'ness with the 12.10 service to Manuel |
| | Caledonian Railways 439 class no 419 is seen o the rear of the 12.10 service from Bo'ness - Manuel |
| | Caledonian Railways 439 class no 419 seen on the rear of the 12.10 service from Bo'ness- Manuel |