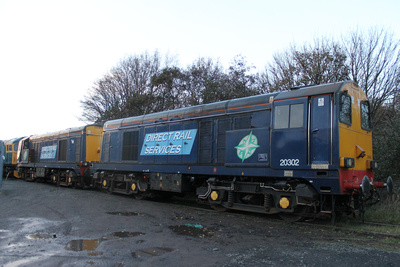 I was late in leaving work on Friday (3pm is late for a Friday!) which meant I didn't have time to go very far before darkness fell so I decided to head home via Bo'ness. I was wanting to have a look to see if any of 614209 (former 314209), was visible next to the fence at the rear (it was). As I was approaching the rear of the yard, I noticed that one of the DRS class 20s was visible near the TMD, so I headed there and found that the gates were open and 20302 and 20305 were sitting out on the track in the car park / public footpath with 26038 'Tom Clift' within the gates. The reason they were shunted out there was that one of the steam locos, NCB No 1 'Lord Roberts', was being driven up and down the yard multiple times either on test or on driver training.
Both in original DRS 'Compass' Livery, 20302 and 20305 have been at Bo'ness since 17th July 2020, when they arrived as part of a convoy with 37038, 37424 and 37403, however both of the class haven't run since.
DMSO 64600 from 614209 (ex 314209) was parked up next to the fence at the end of the main line headshunt. Work is still under way on the conversion of the unit from an EMU to a unit powered by Hydrogen, with Arcola Energy carrying out the work.