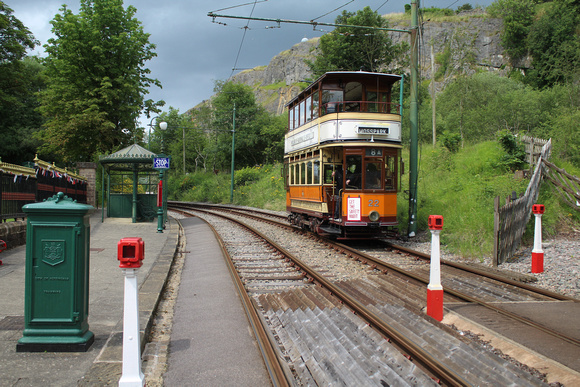 On 4th July after getting a very reasonable last minute deal on thetrainline from Motherwell - Whatstandwell return, I visited Crich Tramway Village!
Whatstandwell on the Nottingham - Matlock line is the station for Crich. It is 1 mile away from Crich, however it is a 30 minute walk up a very steep hill! I'd advise getting a taxi, however it is a 15 minute walk down hill on the return journey!
On arrival at Crich, I bought my ticket, which was £22 and gives you entry for a year. After leaving the ticket office, the path brings you out at the Bowes Lyon Bridge, where there is also a tram stop.
I decided to visit the museum building, which is close to the bridge and the Town End. There are many of the non running fleet in the museum ranging from horse trams to steam tram through to trams built or liveried in each of the decades up to the 1960s. A wander round and looking at the differing details of each of the different types of tram from the streamlined Balloon 712 and PCC tram, the reversed staircases of Lecister 76, to Blackpool's Conduit 4.
Directly opposite the Museum, is the depot fan complete with traverser. The sheds are open to allow you to wander up and down and have a look at each tram in the depot with the opportunity for some shots of the various trams at the front of the depot and if you're lucky, some of them may be out on the depot fan.
Next I visited the workshop viewing area, where the fantastic LCC1 'Bluebird' and Leeds 399 were under maintenance.
After this I spent the rest of the day riding up and down the line on board the 3 service trams out on the day: Glasgow 22, Sheffield 74 & London United Electric Tramways 159 or taking photos from different locations.
I had an absolutely fantastic day at Crich and would highly recommend a visit!