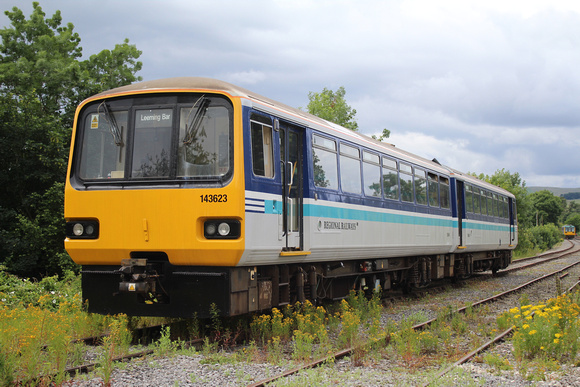 The Wensleydale Railway is based in North Yorkshire with its main station and depot located in Leeming Bar near Northallerton and handily located for the A1(M) motorway and not far from the A66 at Scotch Corner. Currently as I write this, they are running a service from Leeming Bar to Leyburn on Wednesdays, Fridays, Saturdays and Sundays with a shuttle service also running to Scruton from Leeming Bar on selected days. With the English school holidays being on throughout August, a service will also be running on Tuesdays. For more details on times and services visit their Website: https://wensleydale-railway.co.uk/running-days-2023/
The Wensleydale Railway's line runs to Redmire at the west end and to Northallerton West at the east end of the line, however the line is only operational between Scruton and Leyburn for passenger services at the moment.
I visited on 5th July, and on this day debranded Northern liveried Pacer 142060 was operating the service. Before boarding I had a look round the station and some of the collection of rolling stock, which includes vehicle 51353 from set 117301, which has been converted to a community hub, former Tyne and Wear Metro shunter TW4, BR Dutch liveried 37250, class 14 D9523 and Class 121 Bubble Car 121032.
To see more of the collection of Pacers and assorted 1st Generation DMUs, you need to catch the train! I caught the 11.30 service formed of 142060 and on leaving Leeming Bar, saw 142087, 142090 & 142018 as well as some of the 1st Gen DMUs and EWS liveried 44785. It was a nice run taking 42 minutes to Leyburn and passing 144020, 142028 & 142035 stored in a passing loop further up the line. At Leyburn, there is cafe facilities and a gift shop and with 25 minutes before the return journey, there is enough time to visit both. The return journey departed Leyburn around 12.30 and was soon back at Leeming Bar.
Once back, one of the volunteers let me have a look at LEV1, the railbus that became one of the pacer prototypes, which was located in their shed. He mentioned that Regional Railways liveried 143623 was up at Redmire, where filming was taking place for the new series of Vera, so I decided to drive up there and get some photos of the unit, which is looking superb!
I then drove back to Leeming Bar for some more photos, stopping off enroute at Leyburn for some photos of 142060, then headed back home. I would recommend Wensleydale Railway for a visit, the staff and volunteers are all friendly and welcoming and the ticket prices are good value for money.