The Glasgow Subway is the third oldest underground Metro railway system in the world, behind London and Budapest. Opening in 1896, the Subway was first cable hauled before switching to electric traction from 1935, using the original rolling stock. Following a major refurbishment from 1977-1980, the current configuration of stations and the current Metro Cammell power cars entered service.
Today's system consists of the inner circle and outer circle serving 15 stations over their 6 1/2 mile route and it is possible to travel around a complete loop of the system in 25 minutes. The stations are a mix of the more traditional narrow island platforms at most stations (Kelvinhall, Kelvinbridge, St Georges Cross, Cowcaddens, Bridge Street, West Street, Shields Road, Kinning Park and Cessnock), with the busier stations of Buchanan St, Ibrox and Hillhead having a combination of side platform and centre platform while St Enoch, Govan and Partick have a pair of side platforms to ease congestion.
The service levels vary from every 4 minutes at peak times (6 trains per circle), every 6 minutes (4/5 trains per circle) or every 8 minutes (3 trains per circle).
The services are operated by trains of the unique 4ft gauge 1978 built Metro Cammell power cars and 1992 Hunslet built trailer cars. The cars are usually run in three car formation, although 2 car is also possible if short of stock. Formations are usually as follows:
Power Car / Trailer / Power Car
Power Car / Power Car (acting as trailer) / Power Car
Power Car / Power Car
There are currently 32 Power Cars in service and 8 trailers, mostly in SPT Orange, Grey and White livery, however there are 2 special liveries, these being on Number 101, which carries a retro Glasgow District Subway Maroon and Cream livery and 130, which carries a special grey livery to celebrate the 120th Anniversary of the Subway in 2016. The only car you won't see is 122 as it was scrapped in 2017 to provide spare parts to keep the others in service.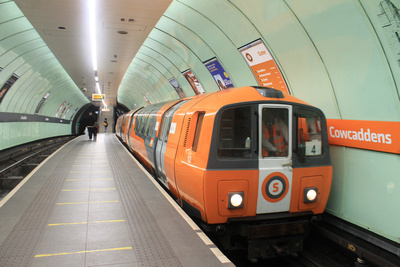 With the introduction to service of 17 new Stadler trains expected during 2022, it is a case of catch the Metro Cammell and Barclay cars while you can.
Having recently started reading the excellent 'Circles under the Clyde' book, which gives a fascinating history, particularly of the original pre 1977 system and the rolling stock, I was inspired to visit for the first time since 2014 and take photos of the system for the first time!
On both occasions the 6 minute service was in operation using 4 trains per circle, though on my second trip, this was ramping up towards the 4 minute service with 6 trains per circle. As well as having a ride round both the Outer and Inner circles, I stopped off at various stations including St Enoch, Buchanan Street, Govan, Bridge Street and Cowcaddens to take photographs. I would recommend a visit to this small, clean and well kept system.
I have added a fleet list below, which has details of the current Metro Cammell and Hunslet vehicles. Any of the vehicles that I have photographed, I have linked them to the relevant number on the fleet list below:
| | | | | | | |
| --- | --- | --- | --- | --- | --- | --- |
| Number | Vehicle Type | Built by | Entered Service | Current Livery | Status | Notes |
| 101 | Motor Car | Metro Cammell | 1980 | Retro Glasgow District Subway Company Maroon and Cream livery | In Service | |
| 102 | Motor Car | Metro Cammell | 1980 | SPT Orange, Grey and White livery | In Service | |
| 103 | Motor Car | Metro Cammell | 1980 | SPT Orange, Grey and White livery | In Service | First vehicle to be delivered to upgraded Subway and first to run under it's own power. |
| 104 | Motor Car | Metro Cammell | 1980 | SPT Orange, Grey and White livery | In Service | |
| 105 | Motor Car | Metro Cammell | 1980 | SPT Orange, Grey and White livery | In Service | |
| 106 | Motor Car | Metro Cammell | 1980 | SPT Orange, Grey and White livery | In Service | |
| 107 | Motor Car | Metro Cammell | 1980 | SPT Orange, Grey and White livery | In Service | |
| 108 | Motor Car | Metro Cammell | 1980 | SPT Orange, Grey and White livery | In Service | |
| 109 | Motor Car | Metro Cammell | 1980 | SPT Orange, Grey and White livery | In Service | |
| 110 | Motor Car | Metro Cammell | 1980 | SPT Orange, Grey and White livery | In Service | |
| 111 | Motor Car | Metro Cammell | 1980 | SPT Orange, Grey and White livery | In Service | |
| 112 | Motor Car | Metro Cammell | 1980 | SPT Orange, Grey and White livery | In Service | |
| 113 | Motor Car | Metro Cammell | 1980 | SPT Orange, Grey and White livery | In Service | |
| 114 | Motor Car | Metro Cammell | 1980 | SPT Orange, Grey and White livery | In Service | |
| 115 | Motor Car | Metro Cammell | 1980 | SPT Orange, Grey and White livery | In Service | |
| 116 | Motor Car | Metro Cammell | 1980 | SPT Orange, Grey and White livery | In Service | |
| 117 | Motor Car | Metro Cammell | 1980 | SPT Orange, Grey and White livery | In Service | |
| 118 | Motor Car | Metro Cammell | 1980 | Scottish Power / COP 26 advert | In Service | |
| 119 | Motor Car | Metro Cammell | 1980 | SPT Orange, Grey and White livery | In Service | |
| 120 | Motor Car | Metro Cammell | 1980 | SPT Orange, Grey and White livery | In Service | |
| 121 | Motor Car | Metro Cammell | 1980 | SPT Orange, Grey and White livery | In Service | |
| 122 | Motor Car | Metro Cammell | 1980 | N/A | Scrapped | Withdrawn 2015 and scrapped circa 2017 to provide spare parts for other vehicles |
| 123 | Motor Car | Metro Cammell | 1980 | SPT Orange, Grey and White livery | In Service | |
| 124 | Motor Car | Metro Cammell | 1980 | SPT Orange, Grey and White livery | In Service | |
| 125 | Motor Car | Metro Cammell | 1980 | Scottish Power / COP 26 advert | In Service | |
| 126 | Motor Car | Metro Cammell | 1980 | SPT Orange, Grey and White livery | In Service | |
| 127 | Motor Car | Metro Cammell | 1980 | SPT Orange, Grey and White livery | In Service | |
| 128 | Motor Car | Metro Cammell | 1980 | SPT Orange, Grey and White livery | In Service | |
| 129 | Motor Car | Metro Cammell | 1980 | SPT Orange, Grey and White livery | In Service | |
| 130 | Motor Car | Metro Cammell | 1980 | Glasgow Subway 1896-2016 120 years All over Grey livery with orange doors | In Service | |
| 131 | Motor Car | Metro Cammell | 1980 | SPT Orange, Grey and White livery | In Service | |
| 132 | Motor Car | Metro Cammell | 1980 | SPT Orange, Grey and White livery | In Service | Used for the Inaugaration of the new system by the Queen 1.11.79 |
| 133 | Motor Car | Metro Cammell | 1980 | SPT Orange, Grey and White livery | In Service | Used for the Inaugaration of the new system by the Queen 1.11.79 |
| 201 | Trailer Car | Hunslet | 1992 | Scottish Power / COP 26 advert | In Service | |
| 202 | Trailer Car | Hunslet | 1992 | SPT Orange, Grey and White livery | In Service | |
| 203 | Trailer Car | Hunslet | 1992 | SPT Orange, Grey and White livery | In Service | |
| 204 | Trailer Car | Hunslet | 1992 | SPT Orange, Grey and White livery | In Service | |
| 205 | Trailer Car | Hunslet | 1992 | SPT Orange, Grey and White livery | In Service | |
| 206 | Trailer Car | Hunslet | 1992 | SPT Orange, Grey and White livery | In Service | |
| 207 | Trailer Car | Hunslet | 1992 | SPT Orange, Grey and White livery | In Service | |
| 208 | Trailer Car | Hunslet | 1992 | SPT Orange, Grey and White livery | In Service | |