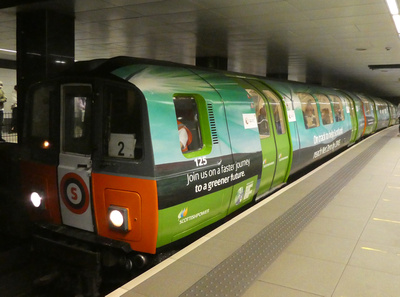 A full set of Glasgow Subway vehicles formed of Metro Cammell Power Car 125, Barclay Trailer 201 and Metro Power Power Car 118 have been reliveried into an all over advert for Scottish Power and COP 26.
The advert features the slogans 'Join us on a faster journey to a greener future' and 'On track to help Scotland reach net zero by 2045'. The logos for Scottish Power and COP 26 also feature on the body sides.
The train, with 125 leading, was running on the Outer Circle on route 2 on 16th October 2021. Photos taken at St Enoch and Buchanan St. On 22nd October, the set were seen working route 15 on the Inner Circle, again 125 was leading.